Paid Subscription Required: For a limited time, the patent pending Tour Read Golf app subscription costs US$99.99/year. Local currency may vary.
Try it FREE for 1 week
Works with iPhones supporting iOS 14+. Calibration function compensates for camera bump and cases to give a precise read every time.
Congratulations Lee Hodges!
Wins 2023 3M Open Using Tour Read™ Golf System
The NEW Way Pros Read Greens
Make more putts and lower your scores!
The Tour Read™ System is a tour proven, scientific, step-by-step approach to green reading for players of all abilities. Golfers get accurate reads quickly, consistently, and repeatably, even while under the pressures of competition at the highest levels (or when playing for a few bucks with your buddies).
Now available to the public for the first time! The Tour Read™ System Green Reading Method has been proven and endorsed by hundreds of top tour players, professional caddies, teaching pros, coaches, collegiate teams, top amateurs, weekend golfers and beginners.
Check out a few of our Success Stories
At the heart of the system is the patent-pending Tour Read™ Golf app which helps players learn and practice the Tour Read™ System Green Reading Method. The app accurately measures the slope of the green and translates this into the precise Tour Read™ Break and Pace you need for any putt.
The ability to determine the amount of break in a putt before you hit it is one of the most important and up until now elusive skills in golf. Now, with the Tour Read™ System, you'll get a deadly accurate read every time.
3 National Titles with Tour Read™ Golf!

The Tour Read™ Green Reading Method
Get a PRECISE read in just 3 quick steps...
The Tour Read™ System Green Reading Method is a proven technique for accurately reading greens and making more putts. 
This three-step method is easy enough for juniors to learn, yet accurate enough to turn tour players into champions.
First, determine the length of your putt by pacing it off, adjusting your paces to be about a yard in length.
Next, estimate the left-to-right slope of your putt. With regular practice using the Tour Read app, you'll become proficient at recognizing and estimating slopes. With a simple calculation that most 7-year old's can do in a few seconds, you'll get a precise numerical read for the actual break of the putt.
Finally, adjust your read for today's green speed and any uphill/downhill slope or grain. These adjustments can be done visually without any math.
That's it! It's super easy and very quick (likely much quicker than what you're already doing).  
Thanks to our friends at TXG – Tour Experience Golf for this wonderful introduction to the Tour Read Golf app.
Please subscribe to their newsletter and YourTube channel.
Reading Greens Has Never Been Easier!
Read Greens with Ease Using the Exact Same Method Used by Tour Pros!
Reduce your scores almost immediately.
Eliminate the Biggest Variable in Putting (Green Reading)
Match your speed with your line to very confidently make more putts.
Gain Confidence and Understanding.
Practice your green reading (something up until now was reserved for tour players with full time coaches).
Learn Exactly How Slope Affects Break
Measure how hard up and down hill putts need to be hit.
Tournament Legal Everywhere!
The Tour Read Green Method is legal and conforming. Of course, you can't take measurements during your round, but you won't need to.
Works with Camera Bumps and Cases
 Calibration function compensates for camera bump and cases to give a precise read every time.
The app includes everything you need to be a better putter.
Understand How Changing Conditions Affect Your Reads
Rain, wind, late-day poa, uphill, downhill and whatever… you'll know how to handle it.
Precisely set up practice drills so that you can accurately assess your improvement over time.
Practice reading putts even when you aren't at the course.
Tour Proven 73 Putt Practice Plan
Use the app for just 73 putts and you'll see immediate improvement in your putting.
Visualize Putts in Multiple Ways
Visualize putts in both Compass and Clock views.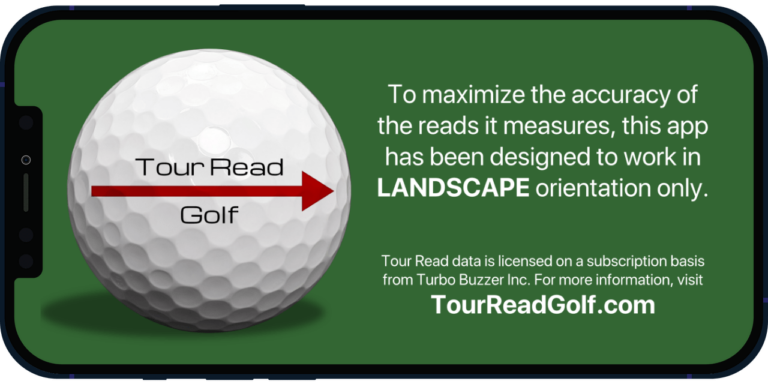 Start Your Putts On Line Every Time!
Improving Your Green Reading is the Fastest Way To Improve Your Scores.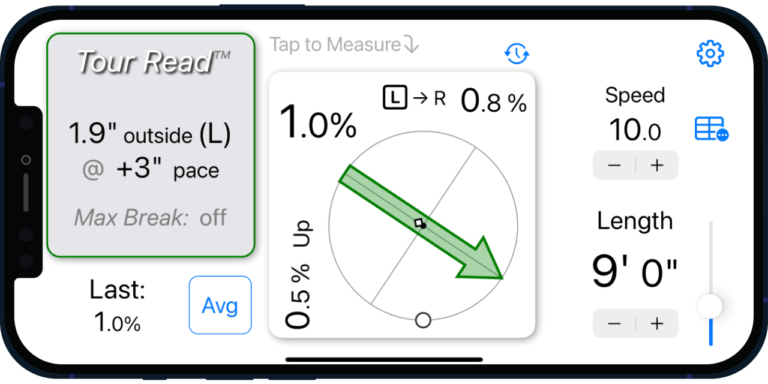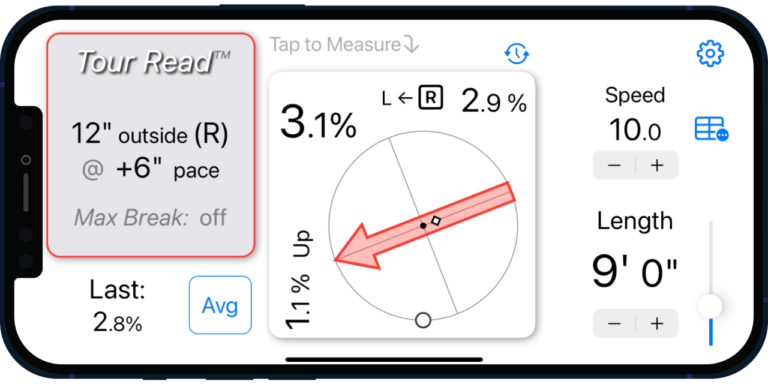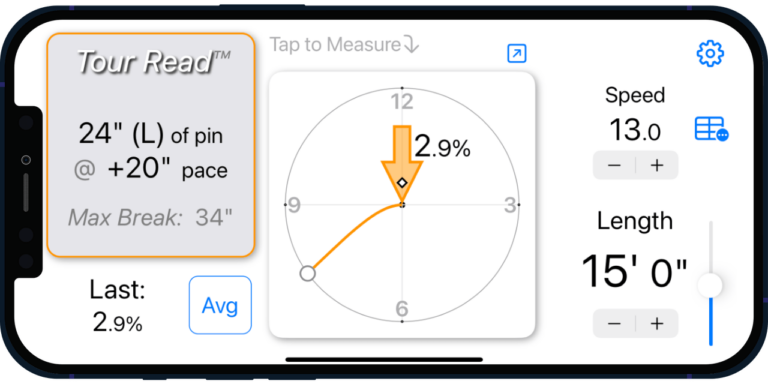 Confidently Make More Putts!